sizes
Find your right sandal size here!
How do you find your size?
First you should measure your foot length from the big toe to the heel. We recommend that you measure your footprint in centimetres. In the table below you can find your Tarasoles size.
Please make sure that the bottom sole is not too big, as this can easily cause tripping. The Tarasoles should have a distance of 0.5-0.8 cm to the edge of the sole at the front and back, then they will sit perfectly. Add about 1cm to your foot length (from the big toe to the back of the middle of the heel) and determine your size in the table below. If in doubt, choose a larger size. You can also easily trim your sandals with scissors.
Width is only important for bespoke models, not for the DIY lacing kit.
How do I make a good footprint?
1. Please stand on a piece of white paper and outline your foot with a pencil that is not too thin. Between the first and second toe please mark a point for the toe lacing. Finally a 10 Also draw a cm-long line on the sheet for the correct scale (please include your name and address!) and send it as a PDF to: info@tarasoles.com
To determine the size, you can use a ruler to measure the length of your foot from the bottom of the heel to the big toe. You should add about 1cm to this and select your suitable sandals in the size chart.
Bottom sole lengths for Fatima lace up sandals
(add about 1 cm to your foot length and then choose your bottom sole):
The lengths and widths given in the table correspond to the bottom soles of the sandals.
Therefore, just measure your foot length (from the big toe to the middle of the heel) and add about 1-1.3 centimeters.
Now take the measurement in the table. The sizes tend to be smaller.
The widths are adjusted for the different models.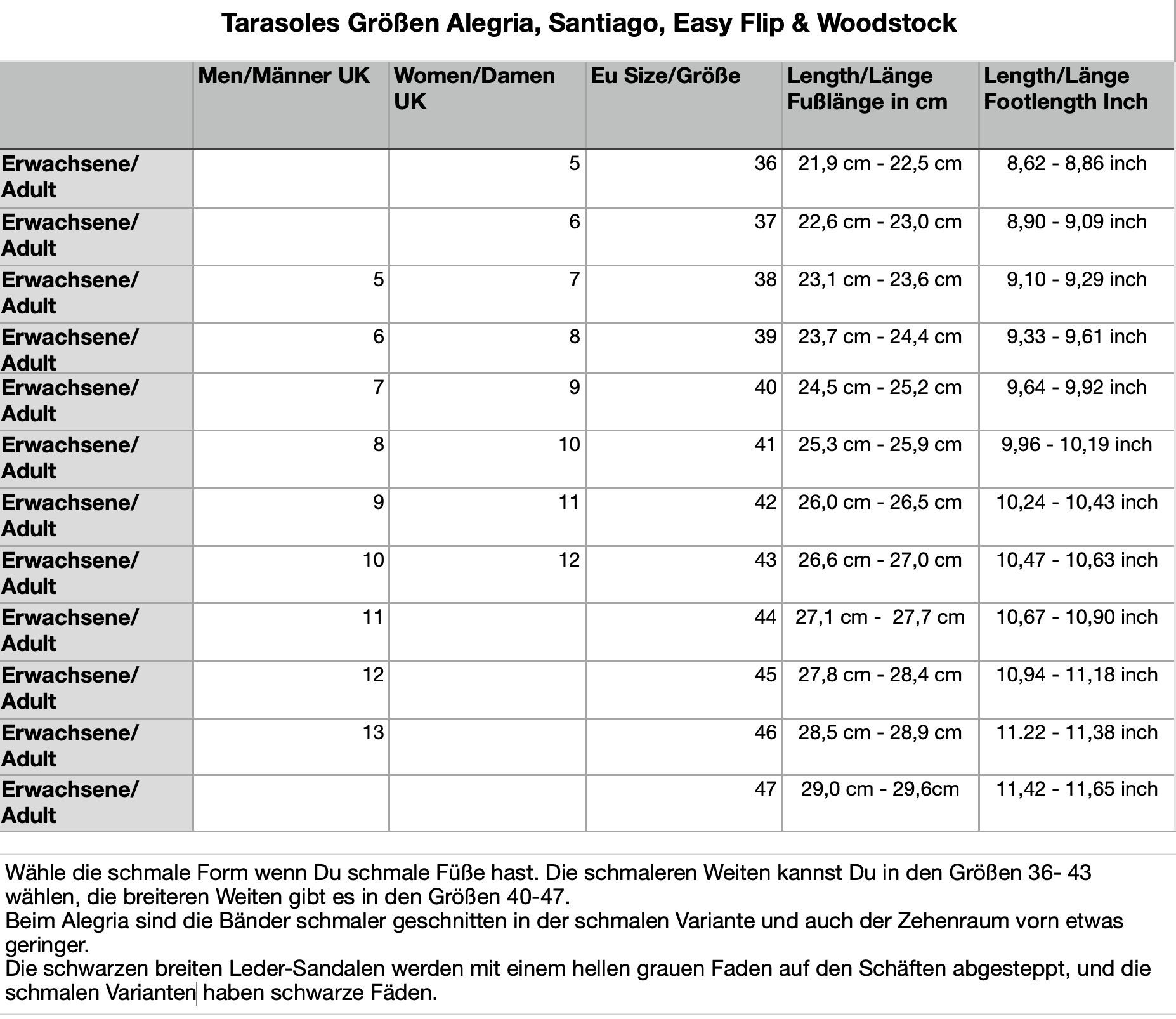 How do I lace my Tarasoles?
Here you will find all instructions for lacing and for the DIY lacing kit.